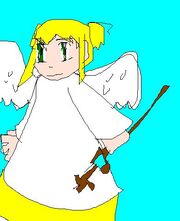 Cherubims are celestial beings who are immortaland faithful to god.
Fall of Hearts:Coco descends down hearts to attack all the area.
Rising Light: Coco Heals al teammates.
Magnificat:Coco sings the Magnificat,to make all the Enemys asleep.
Cherub's Faith:Coco Summons Millions Of Balls of Light.
Power Of love:Coco Shines Upon Using Light
. Spirit of Wings:Coco Summons Millions of Fetahers to Hit all the enemies.