1st Job:Cherubim
2nd Job:Angel
3rd Job:Archangel
4th Job:Grand Angel
5th Job:Unknown
Age:Immortal(Due to Angel)
Home:Heaven
weapons:Staff,Angel Sword,Mallet,God Hand
Species:Angel
Coco was just a simple Cherubim Until the elctions of the gods came in
She was one of the next Cherubs who will become an angel.But before that
A war raged she felled down to Bermesiah.Now it's her mission to get back from
Heaven.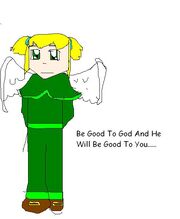 "Did i make you happy?"
Sorry,But I Gotta Go."
Cool I'm really Flying(If using Fly)"
She was one of the priest at serdin when she was a human.
Ad blocker interference detected!
Wikia is a free-to-use site that makes money from advertising. We have a modified experience for viewers using ad blockers

Wikia is not accessible if you've made further modifications. Remove the custom ad blocker rule(s) and the page will load as expected.