Welcome to Grand (Fan) Chase Wiki
Please only edit your pages and not others :) Also be aware that a few members will edit other peoples pages to keep them the right format so as to keep this site organized unlike the last one. These are the main editors:
Shadowfang3000
,
Sakura95
, and the admin/creator of this site and grandchasefan:
LordRaeo
75 articles since May 2008.
What's new on Grand Chase Fan Wiki!
Check out our newest fan events:
Guilds are here at NAGC (north american grand chase) so if you play them you should join the FanChase guild.
The fallen god will rise and take revenge (SEP.16.10)~(SEP.31.10) The Insane Mechanic is about to unpack her arsenal! (OCT.9.10)~(OCT.16.10)
Helping out
To write a new article, just enter the article title in the box below.
Notices
Please do not vandalize the pages. It is a pain to have to fix them. And YOU WILL BE BANNED IF YOU DO.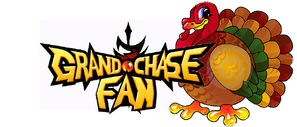 Grand Chase Fan Wiki is where people can come together to share information. Please Vote on the next featured article.
Grand (Fan) Chase Wiki's Current Poll
What can you do for Grand (Fan) Chase Wiki?
<nowiki>Insert non-formatted text here</nowiki>